The winemaker knows the value of each gesture. But only inspiration leads him to the perfect assemblage. Only his devotion sometimes brings about a miracle...

Fabien Vincent - Chief Winemaker
Everything contributes to a search for
balance and excellence.
Whole grape sulfite free vinification, gentle and regular extraction, a maceration duration adapted to the grape and its origin, an elevage (maturing) on fine lees with or without oxygen, either in a barrel or a vat, all contribute to achieving balance and excellence. In this sanctuary dedicated to wine that is today's wine cellar, throughout vinification and maturing, time is punctuated by tastings that lead to a climax: the assemblages. However, every year the voices of Saint-Vincent, patron saint of winemakers and of our predestined family inspire this unique alchemy…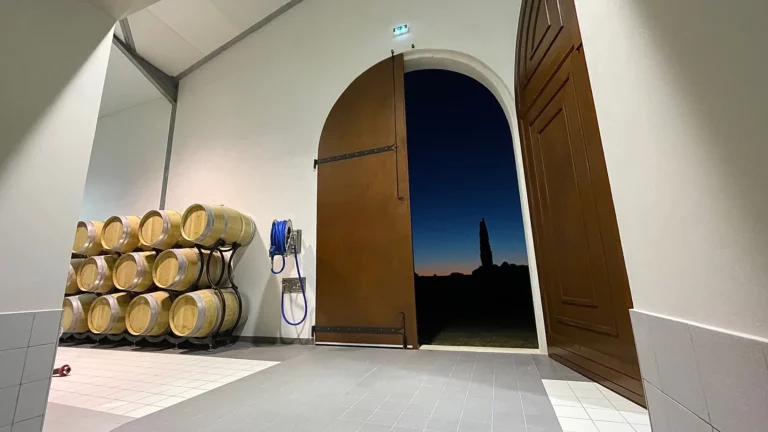 The wine cellar, a place for
expression
In order to replace the 2 historical wine cellars, our first combined vinification and elevage facility was built for 2000 vintage. Far from being an emblematic, grandiose wine cellar, it was designed for the times: sober and technical, elegant and effective. Maximum hygiene, minimum wine handling and a complete set of thermoregulation equipment were the guidelines.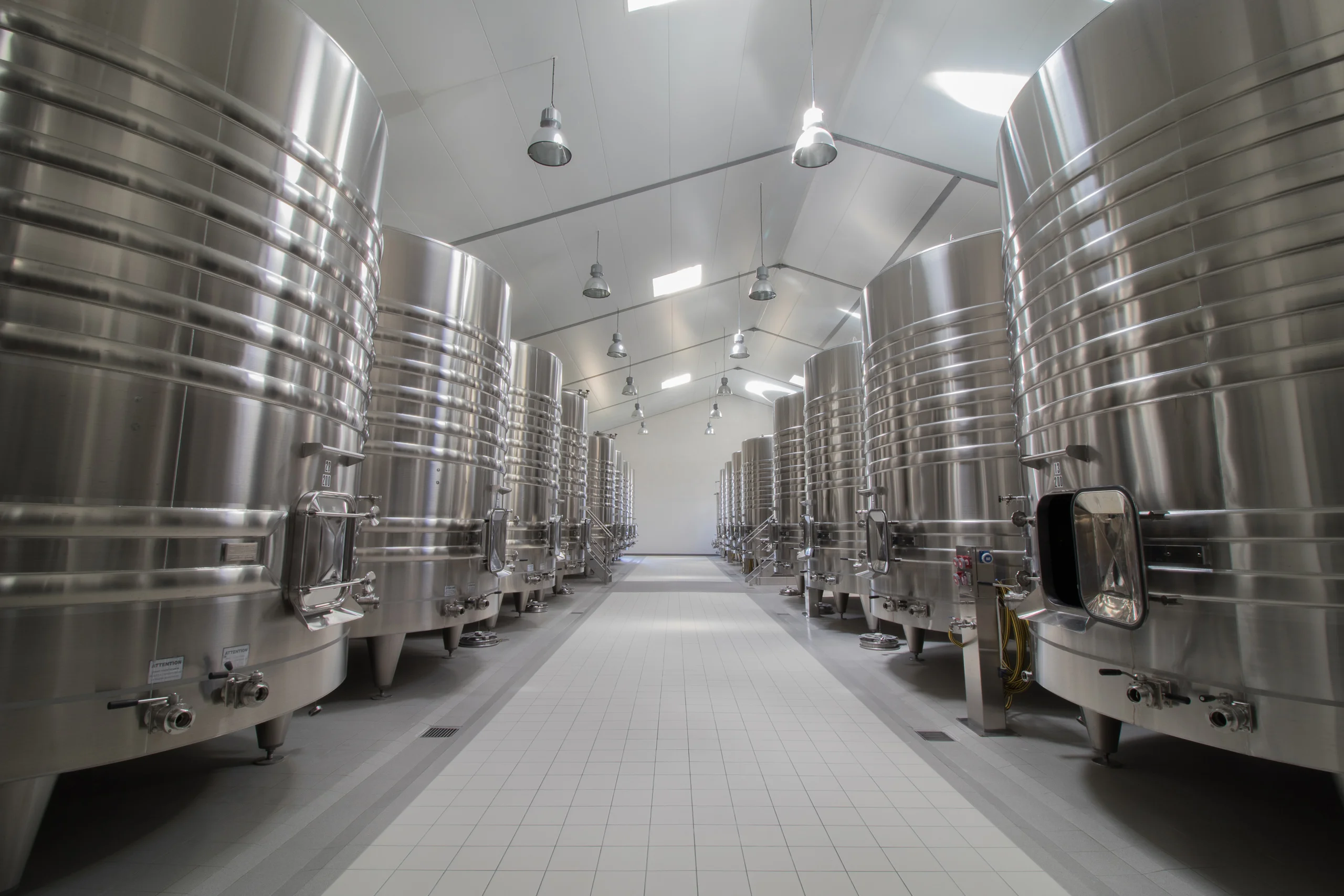 Inaugurated in 2016, its extension marked a
new era

at the chateau.

Neither a work of art nor an ego trip, it embodies a renewed ambition: its symmetric architecture derives inspiration from a quintessential Bordeaux style, but the observer will be surprised by its modernity and its ability to capture the best of our tradition. Embellished with new offices and a boutique, a tasting room crowns a second floor made entirely of glass, offering a captivating panorama on the vineyard and the forest.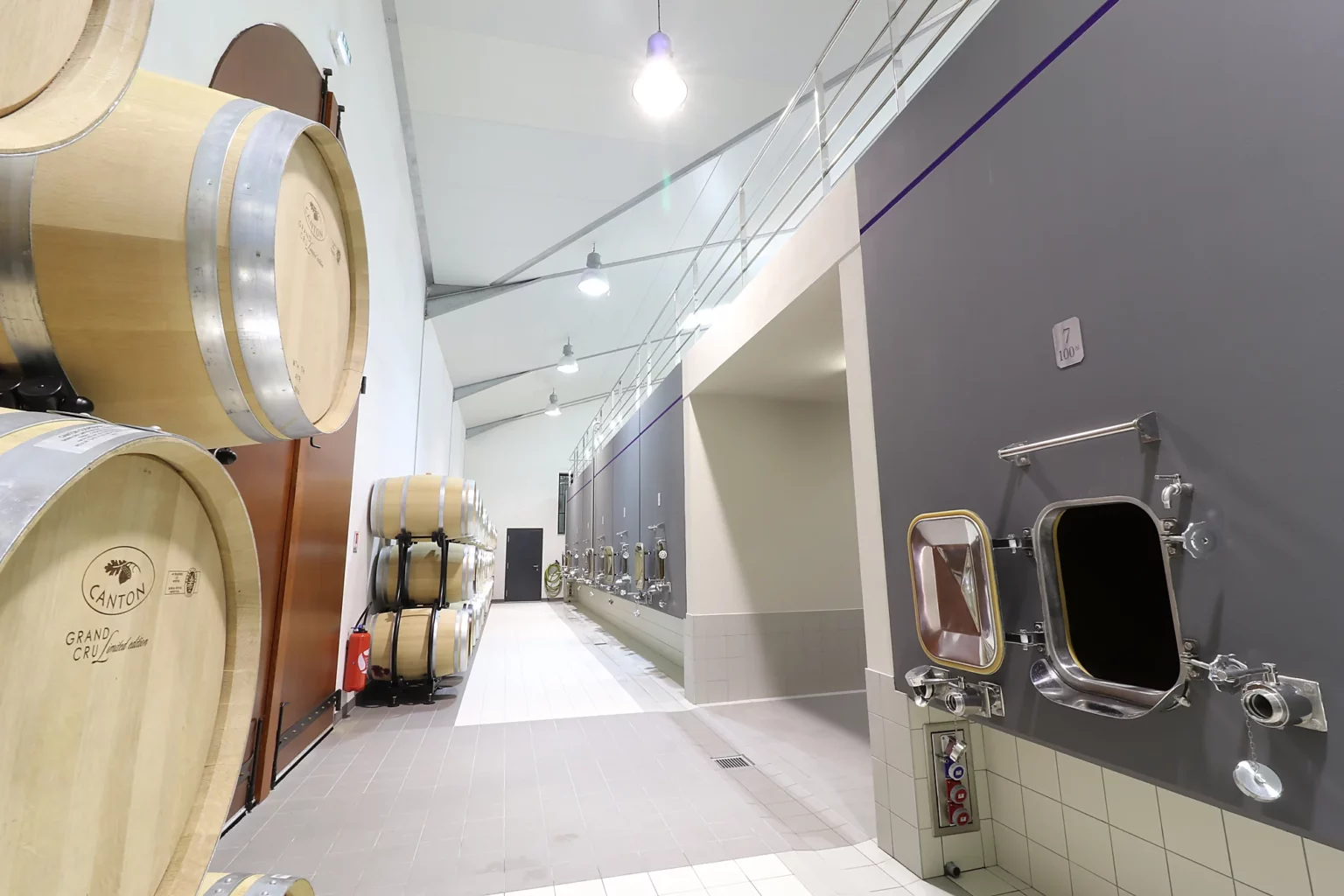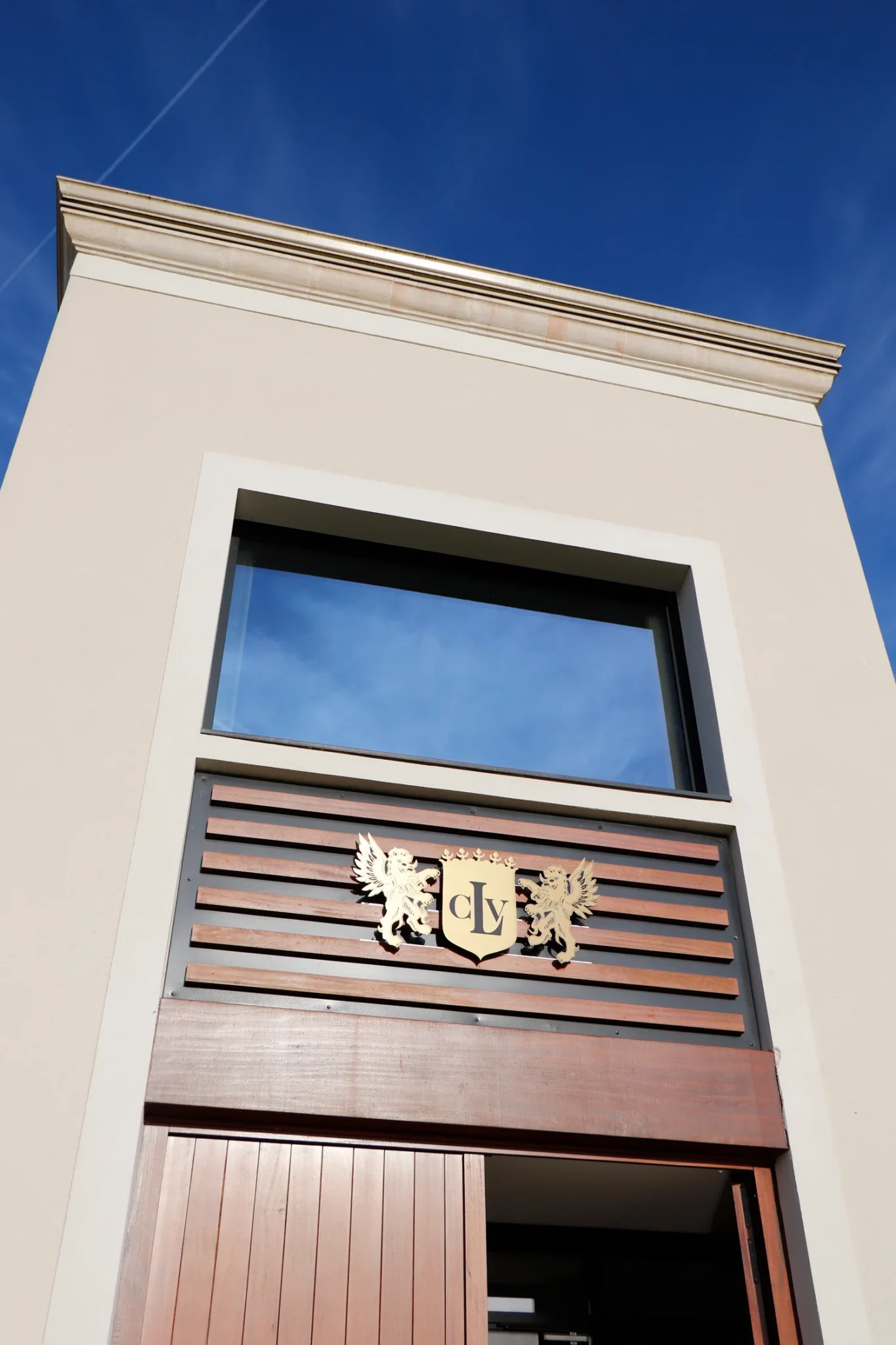 In this apparatus dedicated to wine, a veritable place for expression for its maitre de chai, technology and noble materials enable a
precise, sober and homogeneous

vinification.

With 48 stainless steel vats and 24 matte concrete vats (all of which thermoregulated) ranging in size from 2000 to 30000 liters, we respect the terroirs by ensuring we can achieve a separate vinification for each plot, sometimes even isolating a deserving segment of a single plot.
Gravity draining was intended to be used to preserve the complex wine matrix: two subterranean rooms and a tile platform above concrete vats offer three working levels, thus enabling transfers using non-mechanical means during several phases: vatting, delestage and ecoulage…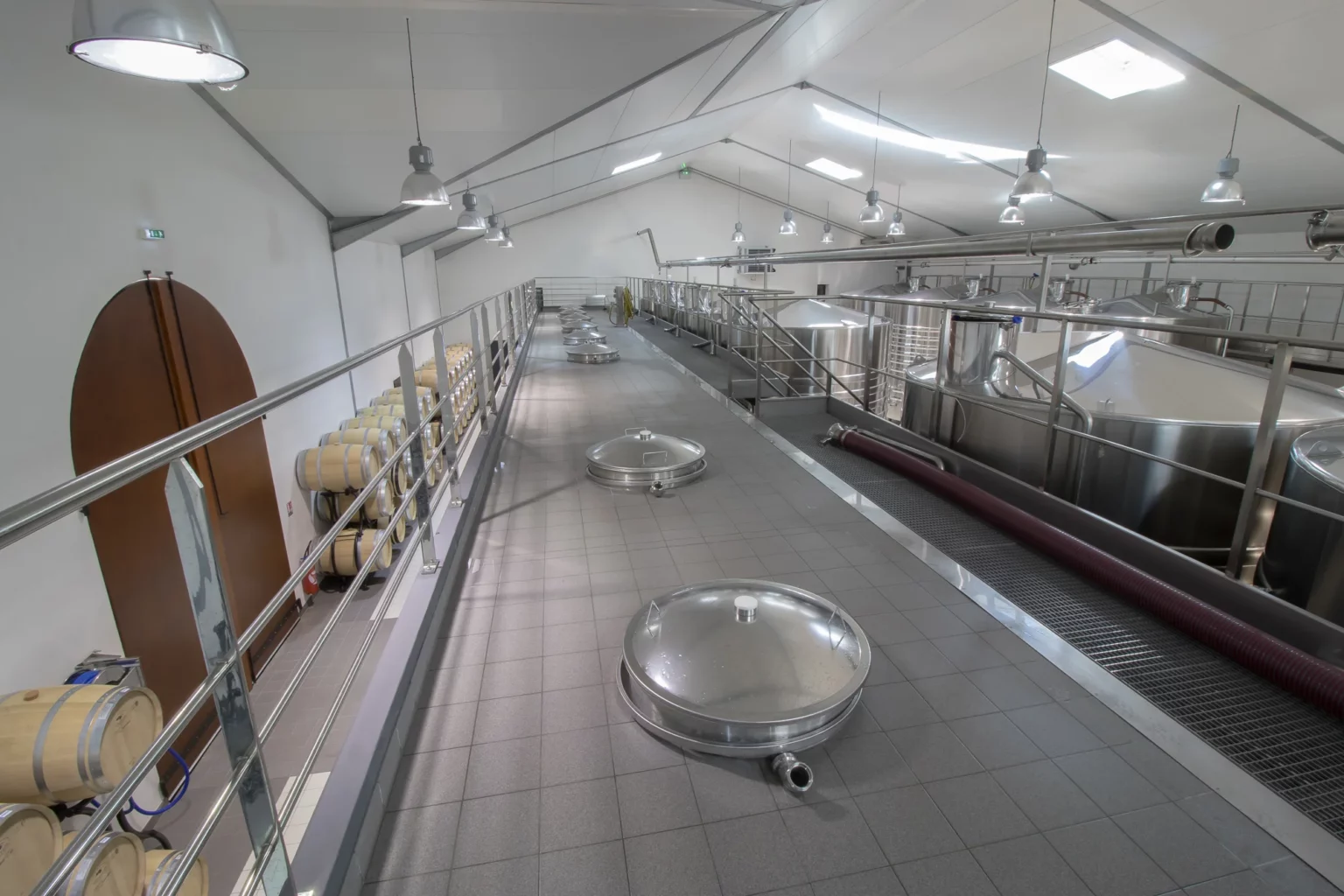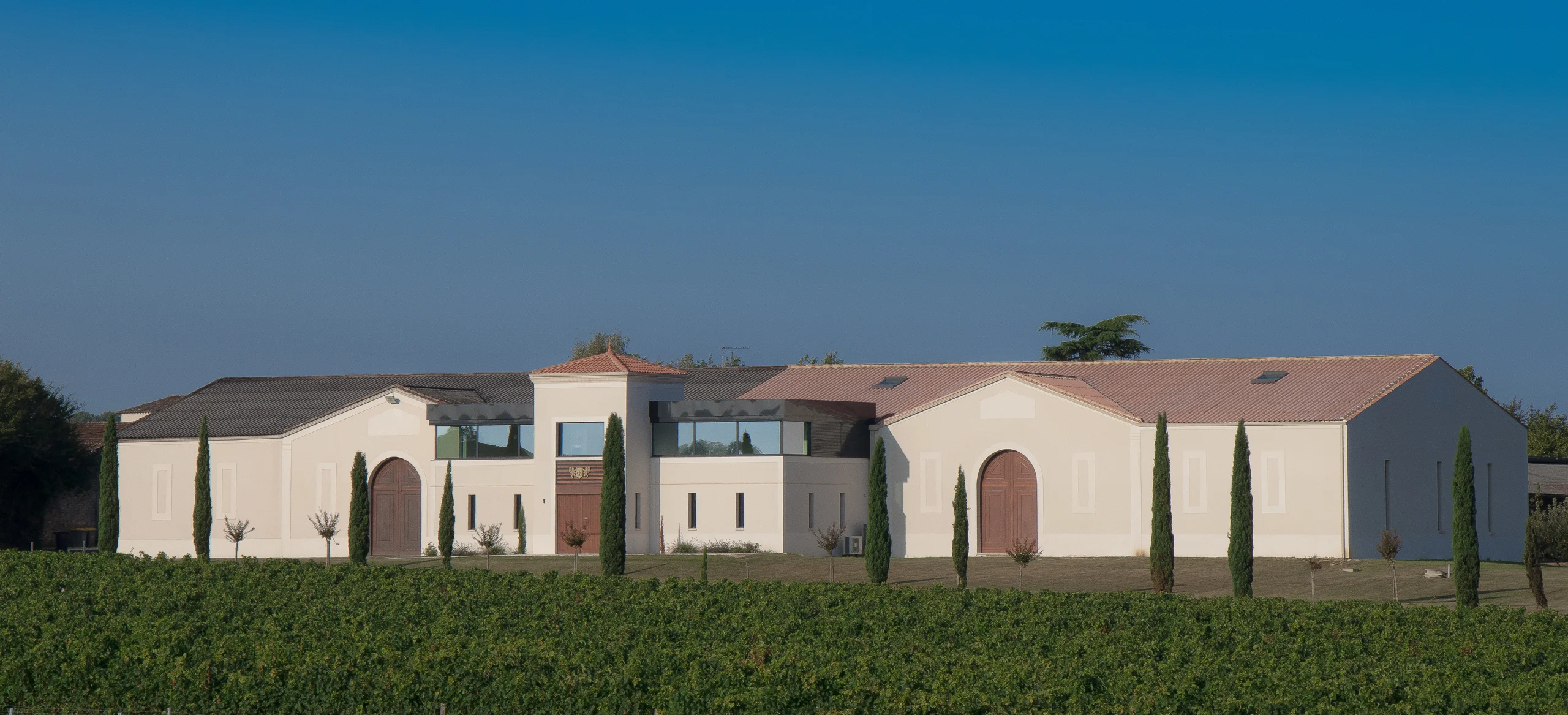 Respect

for grapes respect

Determining the harvest date best adapted to each plot is essential for preserving the quality and the irreproachable health of the grapes. About two weeks before the start of grape harvesting, Fabien, aided by Edouard Massie (our consultant enologist) cross the estate and taste the berries in order to evaluate their potential and ripeness. With the assistance of technological and phenological analyses, this tasting remains to this day the best factor in making this decision and heralds our vinification choices. At this moment the grape harvest calendar starts to take shape.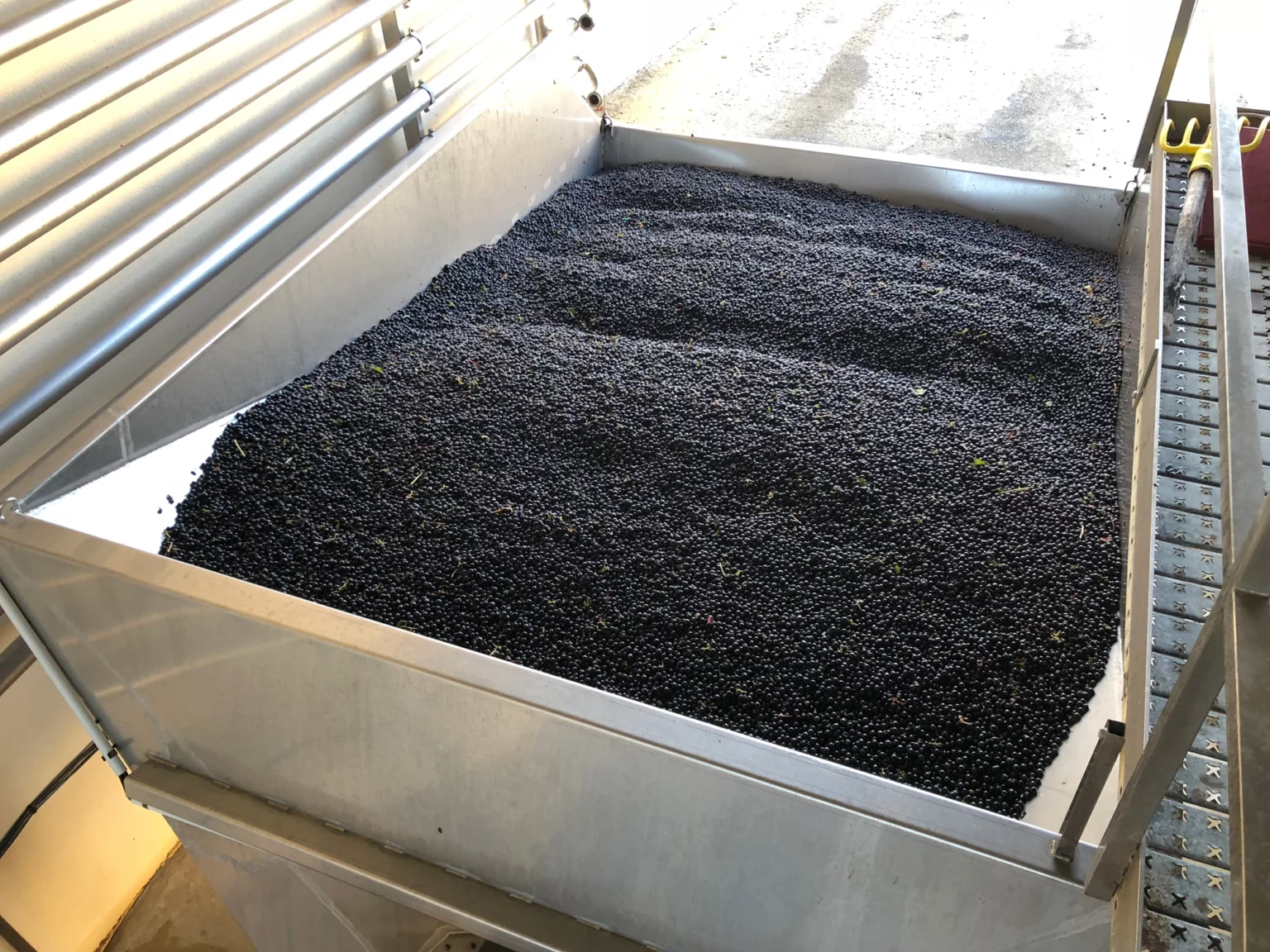 Then the
latest generation harvesting machine

can come into play.

Gravity draining was intended to be used to preserve the complex wine matrix: two subterranean rooms and a tile platform above concrete vats offer three working levels, thus enabling transfers using non-mechanical means during several phases: vatting, delestage and ecoulage (separation of must/wine from grape solids), manual grapes punching, unvatting, or entonnage (transferring juice or wine into a barrel).
Once inside, the grapes are sorted again in order to eliminate scarce plant debris. The grapes then finish their voyage in one of our vats for a few hours (for white grape varieties) or for a few days (for red grape varieties) of pre-fermentation maceration. Here they are protected by dry ice and cold temperatures (6 to 12°C). This stage is essential in our aromatic pursuit.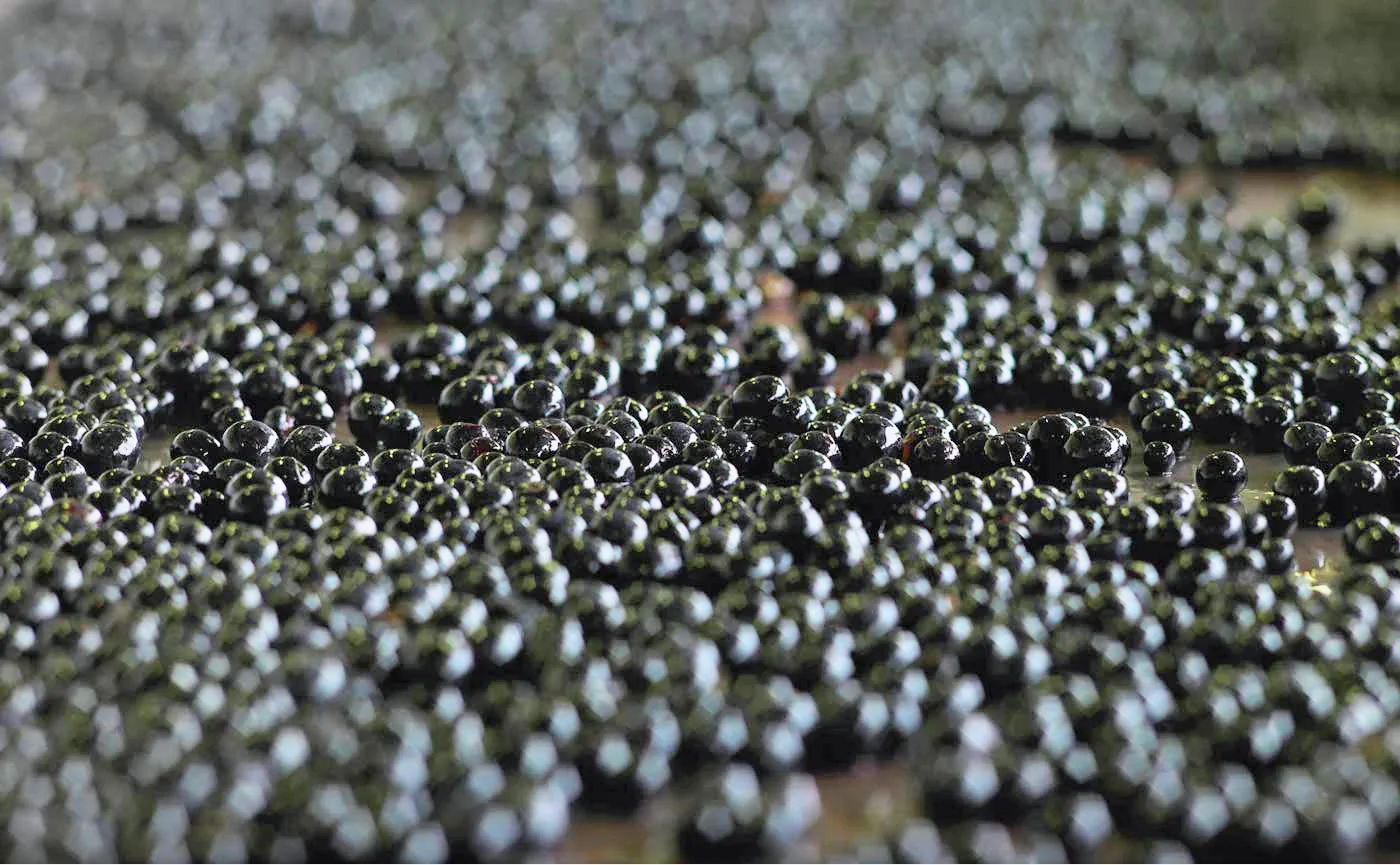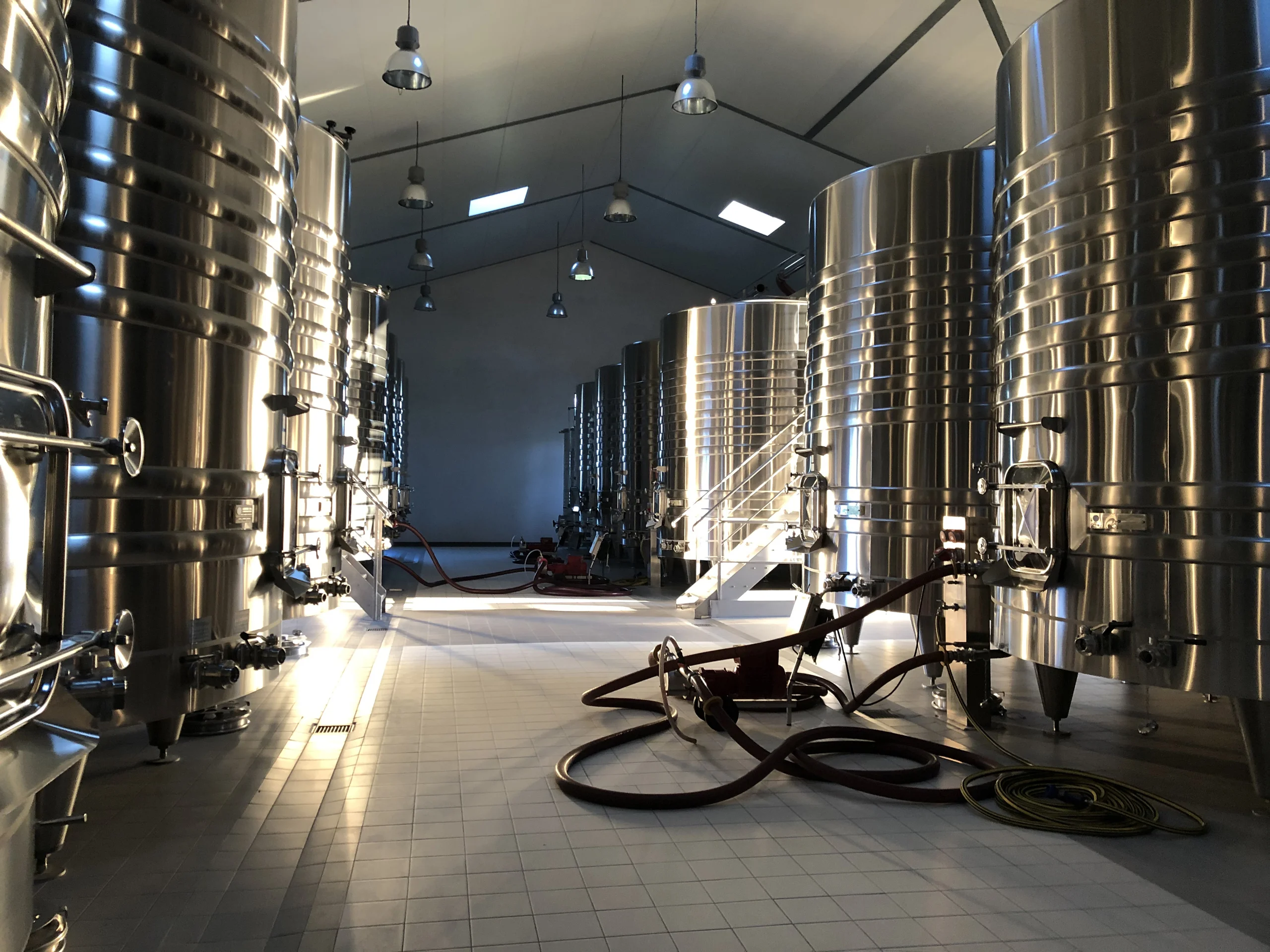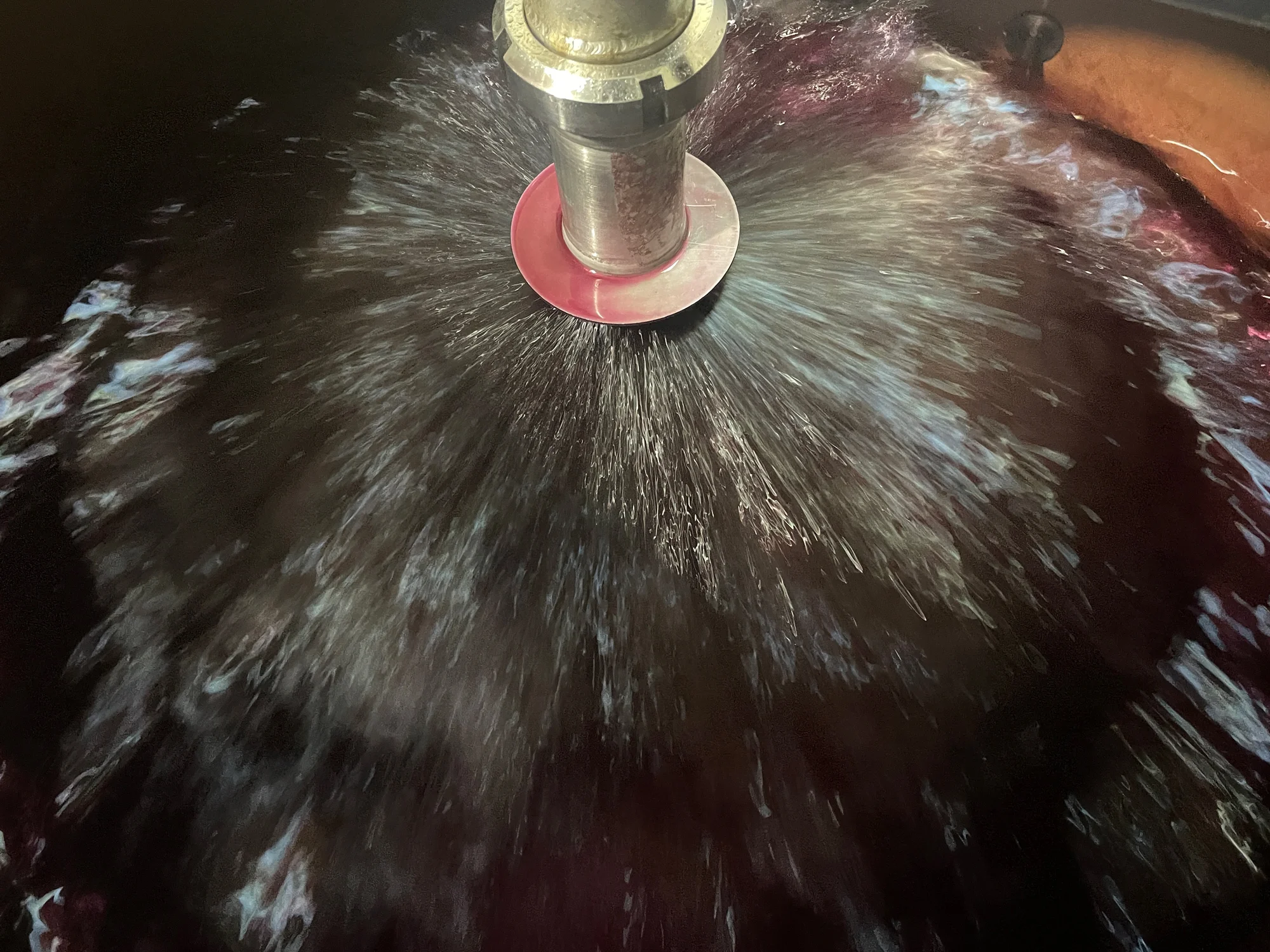 Following a path of
truth
At this time a set of operations begins on all of our vats and continues until the end of this crucial stage of alcoholic fermentation. The red grape extraction is carried out by remontage (pumping nascent red wine from the bottom of the tank and sprinkling it over the top of the fermenting cap), manual pigeage (grape cap punching) and delestage (letting wine run by gravity in underground vats for all night and pumping it on the grape cap at morning). During this transformation of sugar into alcohol, every vat will be guided, day after day, to its full potential while respecting the soil's mark, enhancing flavors and caressing the tannins without obscuring the wine's brilliance. 
Temperature regulation at this stage is essential for respecting the differences of each wine batch and for expressing the underlying character of the harvest. Fermenting white grape varieties at cooled room temperature (18 °C) let us extract the maximum aromatic potential of different varieties all the while preserving freshness and limiting hints of fermentation. For red grape varieties, the temperatures are adapted to the terroir's character: Ideal temperature range of the fruit is 24 to 26 ° C, but this can be as high as 32°C when seeking a higher structure (wine body) without harming the wine's elegance.
Once the vinification is finished and the vats are gravity drained, gentle pressing of the marc liberates residual extract. Its character will depend on the intensity of the extraction carried out, but it will always be a reflection of the original grape, like a concentration of its qualities and possible imbalances.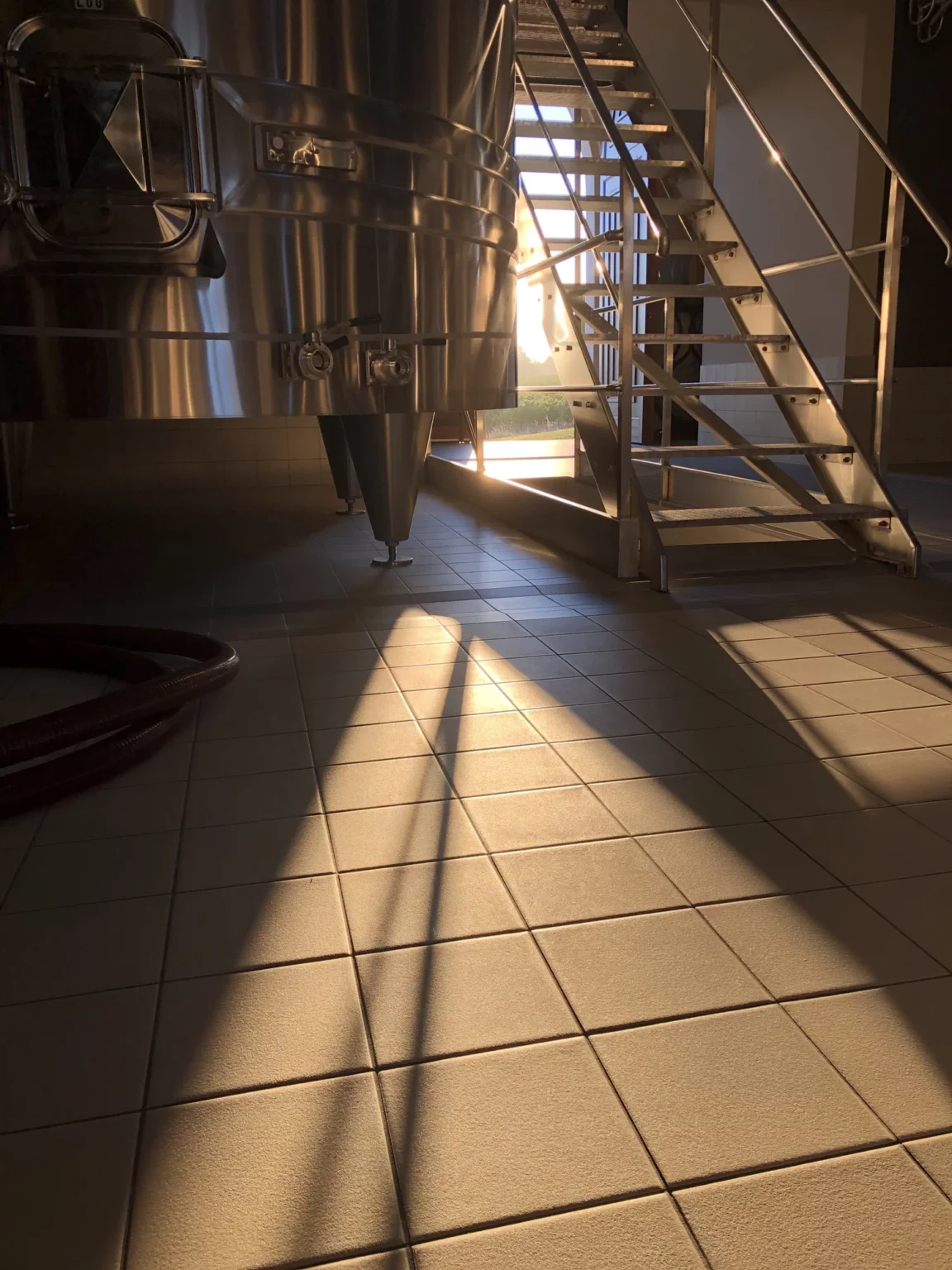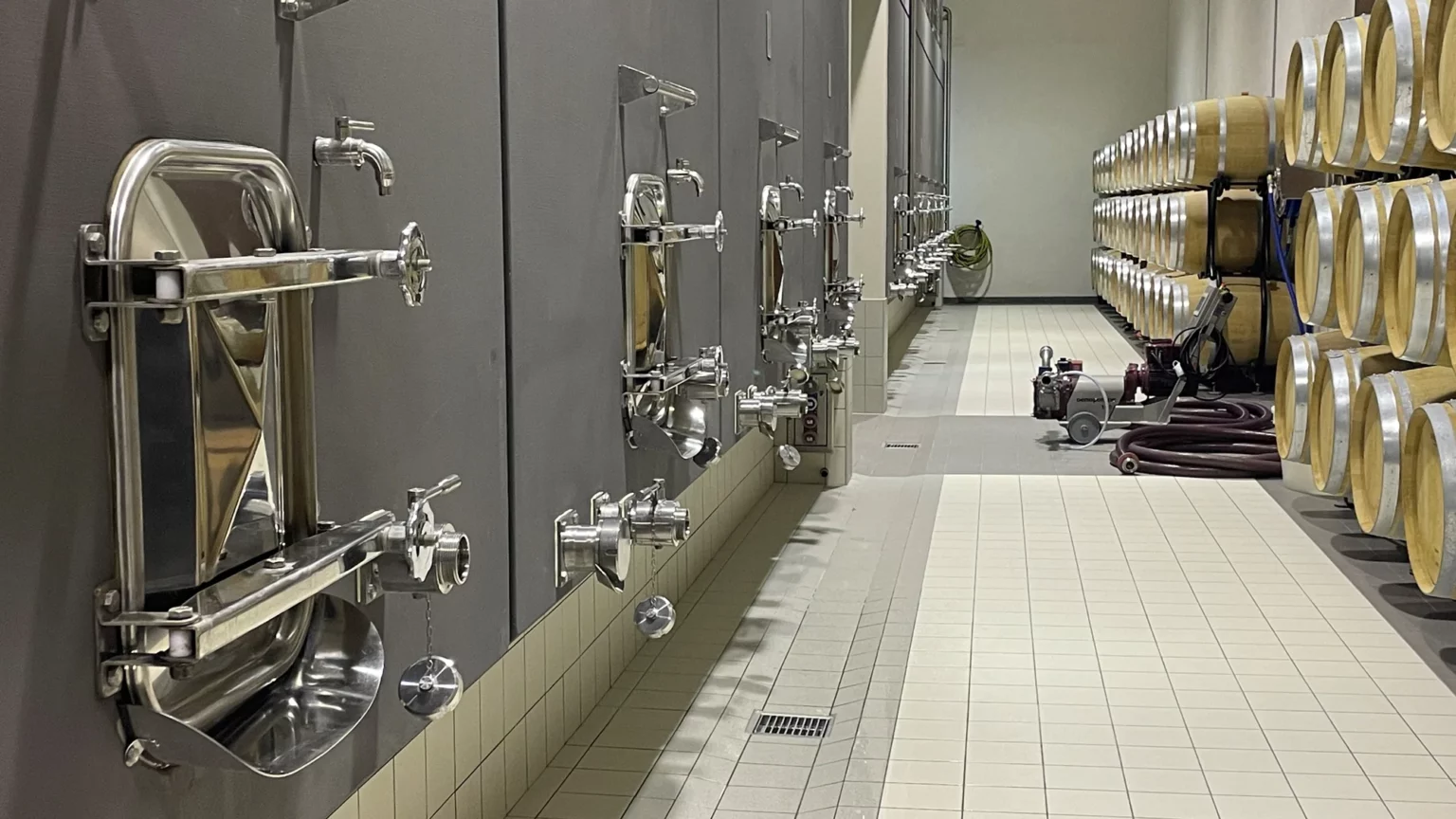 Opening up to others,
gradually
All red wines then undergo natural malolactic fermentation in order to smooth body, all the while stabilizing the wine. In the case of white wines, this natural fermentation is carefully avoided to retain freshness. From that moment, the wine will be subject to elevage on lees for 10 to 24 months (less time for white and rosé wines), contributing body, volume, and palatability to the wine and lengthening its aftertaste. Along this long and peaceful river, we will indeed limit soutirages (transferring wine between vats for aeration, clarification or sediment removal) as much as possible in order to take advantage of the benefits of the lees through brassage (mixing), while the contribution of small amounts of oxygen via micro-oxygenation will help stabilize its structure without affecting the wine's brilliance.
A large variety of barrels

is used

(mainly for Heritage and single vineyard wines) thus putting our philosophy into practice: every wine requires a different "approach to wood". The slow oxygenation in oak barrels allows wines to acquire roundness and volume, while the aromas imparted by the wood contribute to their richness and complexity. Thus, the origin of the oak influences the final product just as the barrel's age or the elevage duration does. We select oaks from top French forests taking into account their terroir and the fineness of their grains. A perfect osmosis between wood and wine must be achieved. This is the reason behind the elegance of our wines: The wood must never distort the natural character of a wine.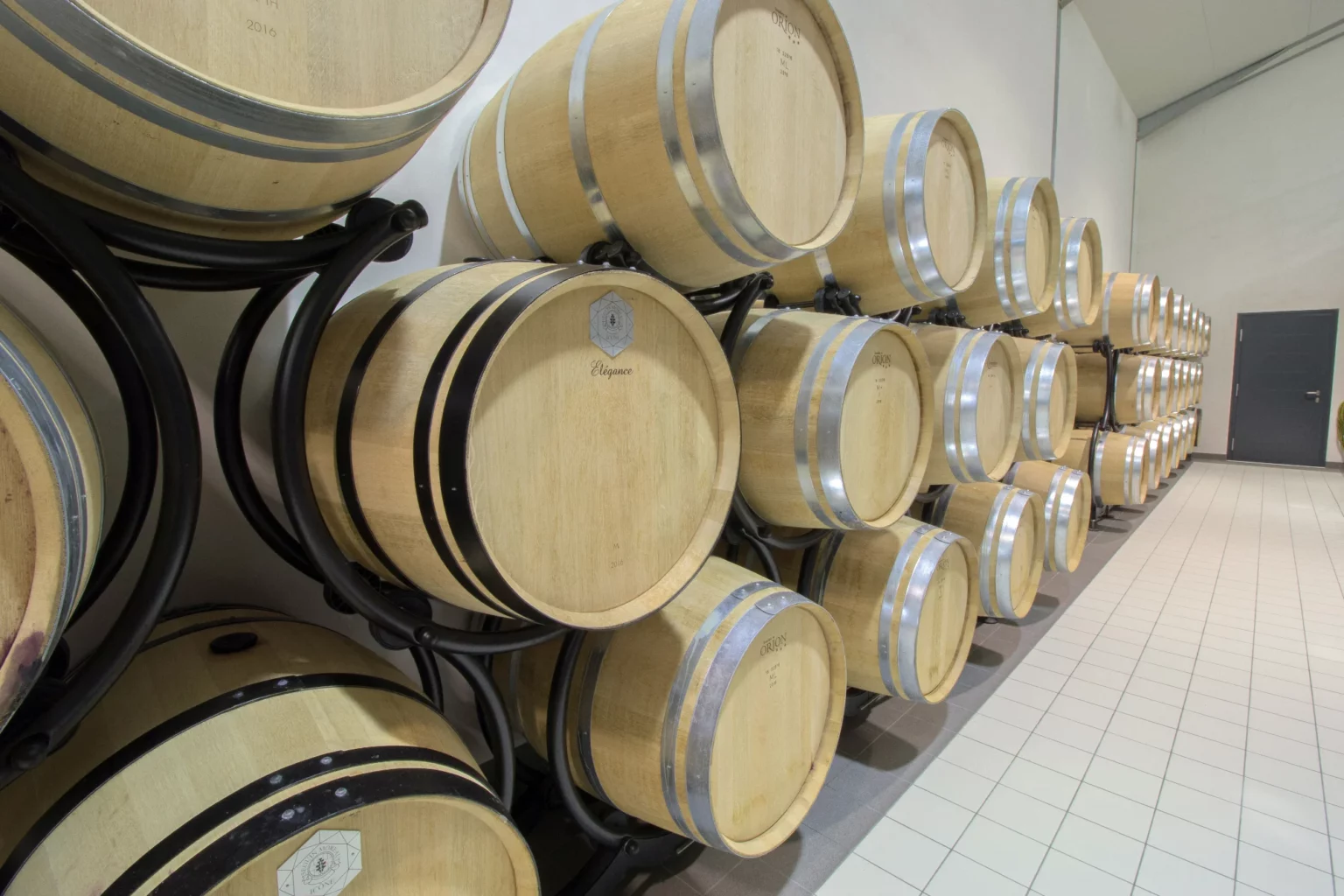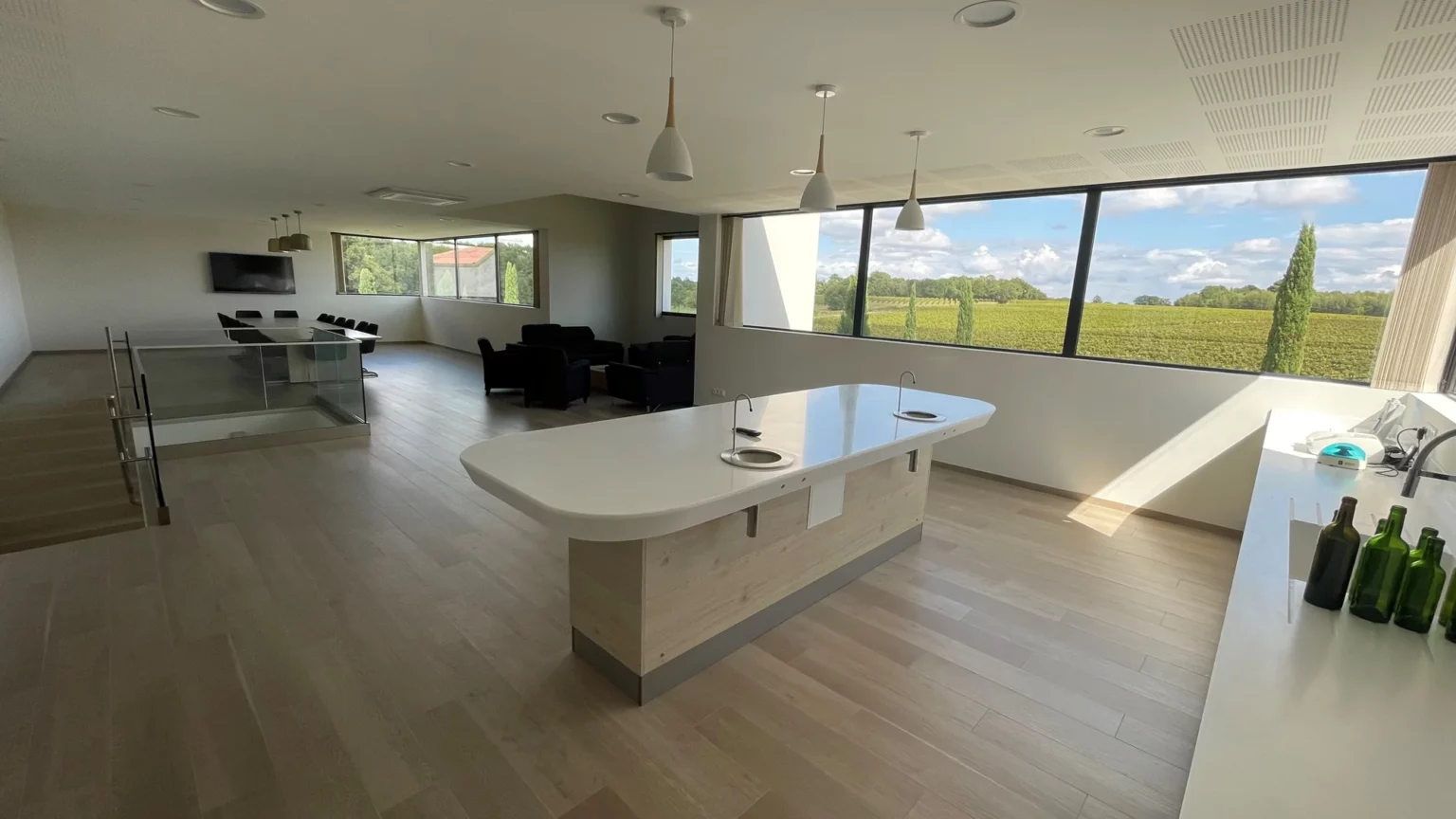 At LAMOTHE-VINCENT, we steadfastly seek the terms of this alliance. Numerous trials let the character of each wine express itself. Sometimes an assemblage of wines aged in barrels and in vats is necessary to attain the ideal balance between complexity and aromatic intensity.
Next, the last rebellious tannins may be softened thanks to the non-systematic fining which can use the traditional egg white or more innovative pea puree or dried lees. Like a precious stone, wines are finely polished to showcase their brilliance. Finally, two wine-aging cellars (which can house 500,000 bottles) let recently bottled wines rest for a certain time before arriving at your table…